While my son has started to phase out Teenage Mutant Ninja Turtles from his current list of interests, he's still very much into Nerf guns and toys like that. He was very excited when I presented him with one of the new TMNT T Blasts' guns available through Playmates Toys. We received the Leonardo Quad Blaster gun which comes with four Leo bullets that are soft like Nerf bullets but a bit larger.
The T Blasts Quad Blaster guns are made to launch bullets quite far but they tend to be much safer than Nerf guns. For one, the bullet is fired using a pull back action from a lever on the back of the gun. There is no powerful blast of air propelling the bullet. You press the trigger to rotate the gun's bullets so you can fire off another one.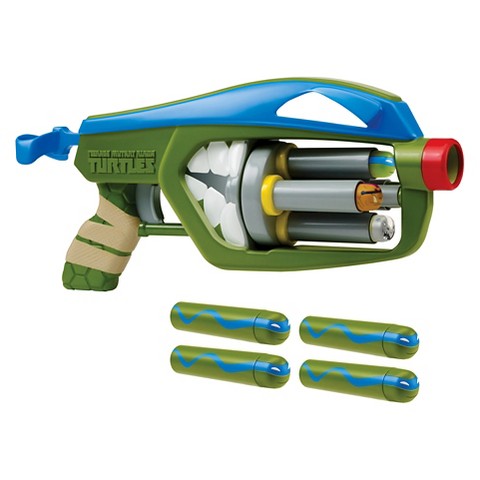 Single shooter T Blasts are also available and you can buy extra character bullets to make things more fun. My son has been using his gun quite often and it's holding up very well. Not to mention, I think the character bullets are quite cute.
You can find more information on Playmates Toys products as well as the T Blasts Quad Blaster gun and other related products by visiting
www.playmatestoys.com
. You can also shop for these products online and in retail stores.